Polyimide Film Concentric Taping and Sintering Machine
Polyimide Film Concentric Taping and Sintering Machine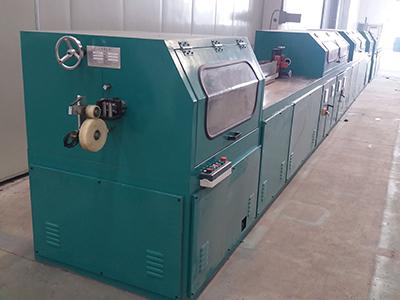 Production scope
One machine with one product line
Feedstock: section: 10~80 mm2
Concentric film tapping heads
Wrap bobbin size: outer dia. Φ330mm, inner dia. ø76mm, lock film width 10~130mm
Supply voltage: 415v 50Hz
Direction: right (enter), left (exit), when facing the machine
Equipment composition and the technical specification
Composed with: Pay off, the main machine: felt locator, straightening device, polishing dust removal device, hot air dry device, concentric taping film head (1 head, 1 film), carter pillar traction device, removable high frequency generator (with infrared sensor), high-frequency generator water recycling device, high temperature resistant quadrilateral pressure device (the first), small radiation furnace, high temperature resistant quadrilateral pressure device (the second), small radiation furnace, high temperature resistant quadrilateral pressure device (the third), cool water groove, hot air dry unit, felt locator, carter pillar tractor device, roller type measure meters unit, and take up.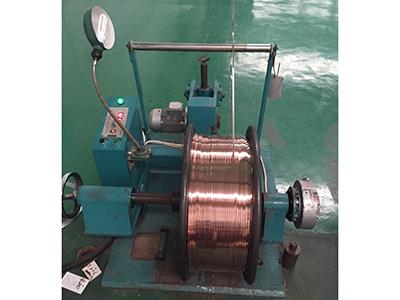 PS-800 pay off 1unit
Electric lifting wooden bobbin (magnetic powder brake)
Lift type up and down
Clamping type Plunger type
Carrying weight max. 800 kg
No need for automatic winding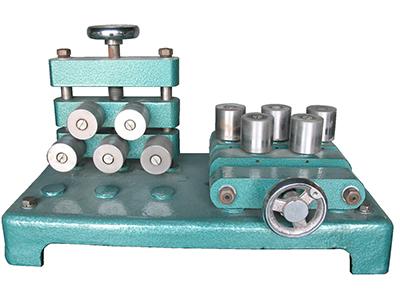 Straightening device: 1 set
Straightening rollers: 10 pieces
Roller diameter: 47 mm
Roller distance: 70 mm
Materials of roller: Nylon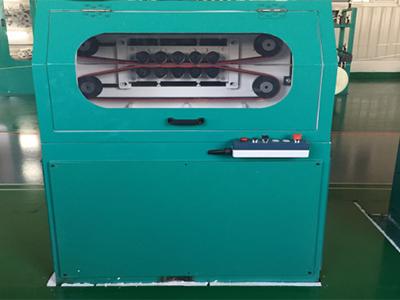 Traction device: 1 set
Contact length: 320 mm
Traction belt type: cog belt
Traction Band Width: 40 mm
Traction belt material: high strength
resistant rubber
Traction drive: servo drive
Clamping method: Pneumatic
Maximum traction: 500 kg
The maximum distance of the traction belt: 40 mm
Synchronization: Servo control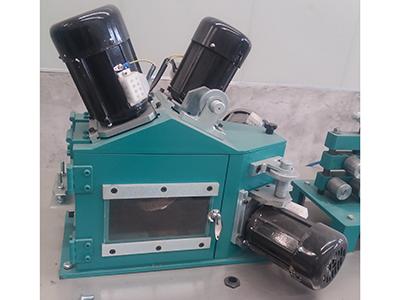 Four sides polishing cleaning device: 1 set
Each set of four sides polishing cleaning device has
4 motor (0.25kw), arranged 90 degree,
clean the burrs and the oxidation layer on the copper wire.
Cleaning materials: Nylon brush
Brush running speed: 1440 round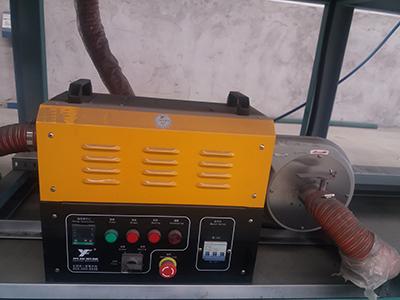 Hot air circulating device: 1 set
Electric heat power: 5 kw, fan power: 0.25KW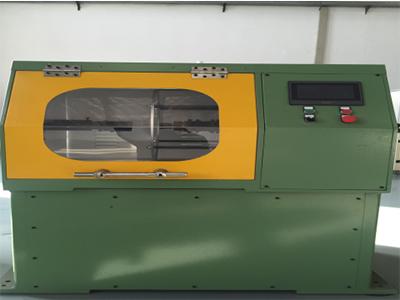 Film tapping heads: 1 set
Wrap type: concentric film tapping head. Each taping head can wrap 1 layer of film.
Wrap direction of turning: Each wrapping head can be positive rotation and inversion and stop. It can achieve gap wrap, seam wrap, 1/2 or 2/3 overlap. Wrap pitch is adjustable.
Wrapping rated speed: 1000 rpm/min
Wrapping pitch drift distance: ≤±0.2mm
Pitch adjust type: We will add you a fine pitch switch to adjust the pitch slightly. It has two courses to set value: If you want to set 2.5mm, first you can set 2 in the first course, then on the second course, you can set 5mm, when you want to set 2.6mm, you just need to add the second course 1mm.
Tension control type of film: Each wrapping head is equipped
with servo motor constant tension device and automatic stop
of film break.
Each wrapping head can install 1 tray with tape. The maximum outer diameter of tray is 300mm. The hole diameter of tray is 76mm.
Each winding head can be installed 1 tray with a tape. The maximum diameter is 300mm, with a disk diameter of 76mm.
Each film wrapping head has its own protective cover, with soft lighting.
The guide wheel will be used for fixing the wire core, the material of guide wheel, skeleton of warping head, conduction band structure aluminum alloy, surface oxidation.
Wrap drive type: servo drive
Lock: Germany cross-linking lock
High-frequency generator: 1 set
The model is GP-45B high-frequency generator. It has sintering delay and start in advance function, power 45 kilowatts, in order to ensure the start and stop this line sintering quality, high frequency as a whole mobile. After the shutdown, the high-frequency move forward as a whole, the device once again boot, the high frequency as a whole slowly returned to the original position, (moving distance of 100 to 250 mm, the actual distance to the length of the tuner) mobile mode with the reducer screw way.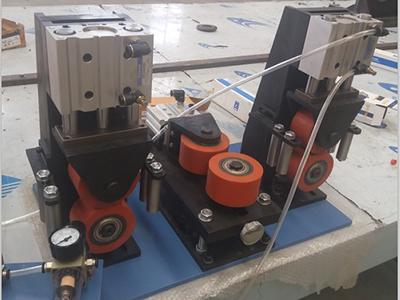 High temperature resistant quadrilateral pressure device: 3 sets
Clamping roller has a diameter of 90 mm. Material is silicon rubber. Up and down adjustment is pneumatic clamping. The left and right adjustment has two kinds of adjustment. Small size suits for manual adjustment. Big size suits for pneumatic adjustment. As you can see in the picture, we can use pneumatic adjustment on the one side, and you can use manual screw adjustment, which can ensure it can use both types of adjustment type. It includes three sets of high frequency indicator, which is good for adhering to the thin film and bare copper wire and eliminate bubbles. The bottom can be adjusted, and the wheel can be used many times.
Small radiation furnace: 2 sets
Stainless steel plate with a length of 4 meters has divided the furnace into two sections. The furnace has three stainless steel heating tubes, and each tube has a power of 1.2 kilowatts. The overall movement of the oven is electric, and 2 sections of oven with 1 set of temperature controller are placed separately. It can adjust the oven temperature individually. When the belt is broken, the oven will automatically move away from the heat source. In the event of power failure, you can also use the hand wheel to remove and to prevent product baking.
Small radiation furnace don't need shelf, only stainless steel board. The heating furnace can be used with far infrared sensor, which can control the temperature automatically.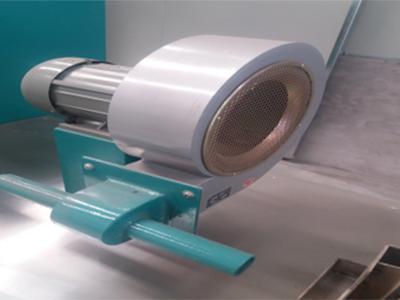 Cool water groove: 1 set
Made of stainless steel, 1.2 meter in length
Hot air dry unit: 1 set
Little hot air dry unit power 0.75 kw, dry water stains.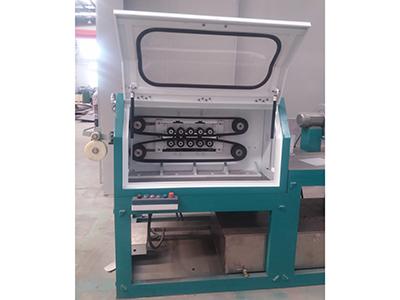 Cater pillar: 1 set 1120 model
Contact length: 320 mm
Shape of belt: cog belt
Belt width: 40mm
Belt material: high strength resistant rubber
Caterpillar drive: servo driven
Clamping method: pneumatic
Max. pulling force: 500kgs
Max. opening distance of traction: 40mm
Synchronization: servo control
Two sets of traction device adopt synchronizing signal. Take up type adopts speed mode and torque mode, take up part and encoder is synchronizing signal.
When press the stop button, the wrapping head and traction device will be stopped together, and will not interrupt the wrapping part.
As for the belt's color, we will send you the color card, so you can choose one that's right for you.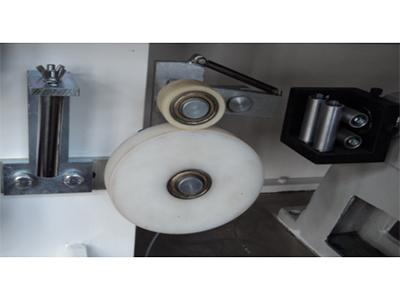 Meter measuring device: 1 set
Digital display, by the contact wire of guide (nylon) wheel to count, when reach the setting length, the machine stopped automatically.
Take-up: 1 set